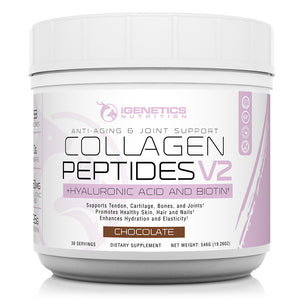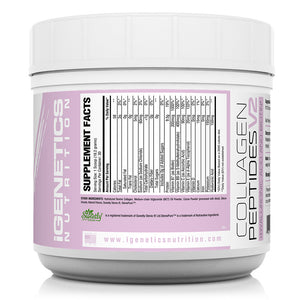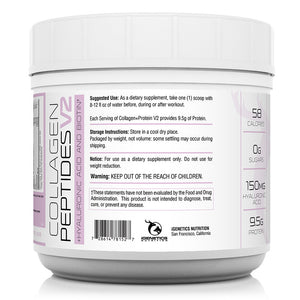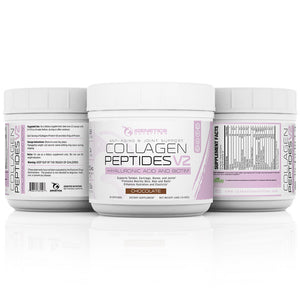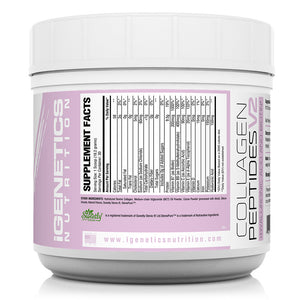 Collagen Peptides V2 | Anti-Aging & Joint Support
Collagen Peptide + Biotin + Hyaluronic Acid, Vitamin E and Vitamin C V2

Sugar-free, Gluten-free, Cruelty-free, No additive
Ingredients you love - ALL in one Jar!
Get the best out of our Collagen Peptides V2, now packed with Hyaluronic Acid, Vitamin C, Vitamin E & Biotin. Collagen is the glue that holds everything together. As we age, its production takes a hit, which is then reflected in weaker bones, joint pains, and the appearance of fine lines and wrinkles. If your collagen production has also slowed down, it's time to recover it with the Collagen Peptides V2. 

Collagen Peptide: From your hair to skin and tendons to cartilage, everything needs optimized production levels of collagen to look and work efficiently. Regular intake may also support heart health, weight loss, joint health, and muscle development.

Biotin: Helps the body convert food into energy, boosts hair and nails health, and manages blood sugar levels.

Hyaluronic Acid: Brings your skin, nails, and hair to life by splashing it with nutrients and hydration. Evens skin tone turns it plumper and reduces the appearance of wrinkles.

Hands down, your best bet for turning back the aging clock on your skin and body.
Collagen Peptides: Collagen is a structural protein found in connective tissues throughout your body, including skin, bones, tendons, and ligaments. Its primary function is to help tissues withstand stretching. As you age, your body makes less collagen.

Hair, skin, and nail health: Collagen is the main structural component in human skin. As you age, your body's collagen content decreases by about 1% per year. The effects of this can be seen in the form of loosening, sagging, discoloration, thinning, and wrinkling of the skin. Collagen makes up 70% of your dermis, which is key to the structure of the hair. As you age, your body becomes less efficient at replenishing collagen. This may cause hair loss and hair thinning over time. Providing your body with collagen may help support healthy hair, skin, and nail. 
Heart Health: It's a protein that provides structure to arteries, and also supports the repair and maintenance of arteries. As you age, your arteries start to lose collagen and become weak and fragile.
Prevents Bone Loss: Bones are made mostly of collagen which makes it needless to prove it's important for healthy bone mass. Anyone above age of 25 should include collagen in their daily diet according to experts.
Joint Health: Although Type II collagen is responsible for joint health and Collagen types 1 and 3 are proven to be effective in reducing joint pain and inflammation.
Benefits of the Additional Ingredients are:
BIOTIN: Biotin helps maintain many of your body's major systems. Like other B vitamins, biotin helps your body use enzymes and carry nutrients throughout the body. In addition, biotin can provide health benefits for your hair, nail, and skin.

VITAMIN C: Vitamin C is a powerful antioxidant that can strengthen your body's natural defenses. Antioxidants are molecules that boost the immune system. They do so by protecting cells from harmful molecules called free radicals. As far as your skin is concerned, vitamin C is a potent antioxidant that can neutralize free radicals. Because of its antioxidant properties, vitamin C aids in your skin's natural regeneration process, which helps your body repair damaged skin cells.

VITAMIN E: Vitamin E is a nutrient your body needs to support your immune system and help your cells to regenerate.

HYALURONIC ACID: Hyaluronic acid is a molecule naturally produced by the body that's found in bones, connective tissue, cartilage, hair follicles, and skin. As a humectant, it helps the skin retain moisture.

Hyaluronic acid and vitamin C are commonly used together because they complement each other to hydrate, protect, and repair aging skin.
According to studies, Vitamin E and Vitamin C combinations are more effective in preventing photodamage than either vitamin alone because they work by negating free radical damage, but each combats different types of UV damage.
HOW TO USE: Take 1 scoop with 8-12oz water or your favorite beverage daily.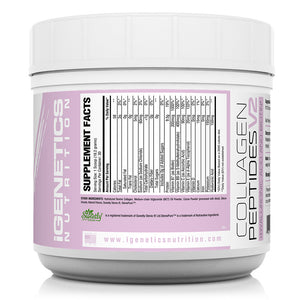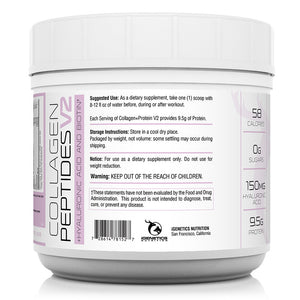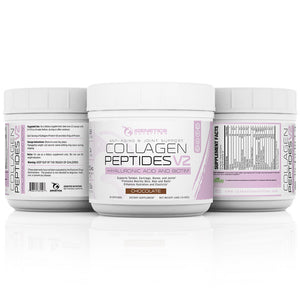 Doesn't taste like medicine
I do not like taking anything that tastes like medicine or prefer not to take multiple large pills. This tastes like delicious chocolate and the powder form is gentle to digest. I lead a very active lifestyle and exercise daily. I should have been taking supplements years ago but avoided because I do not like taking pills or anything that tastes bitter. I'm so happy I found this product. It is helping my with my joint discomfort.
Hair health surprised me
A friend at the gym told me about this and how it's good for your joints/workout recovery. I've been using it daily for 3 months and my finger nails are very strong and harder to cut with nail clippers. Also, my thinning hair has been growing back on top fuller as well as in length. Wow, I was not expecting that! I'm happy. Maybe it's the extra quality protein 8g in my diet from this product. Highly recommend
It's a win, win!!
I absolutely love that I get to drink my collagen and have it taste yummy too! I love how easy this mixes, no clumps here! I really feel and see a difference in my skin, hair, and nails. This is a must try!!
Life saving at my age
Between aging, loosing collagen and bones becoming brittle and pain in my joints, i'm a true believer . I personally use milk with mine daily, need all the extra calcium I can get. Between autoimmune diseases and low D levels and seeing my blood work improve each time. Easy on my stomach, hair and nails growing stronger. Best is getting the benefits, none of us like to age fast. I'm fighting it all the way, helps to keep wrinkles and fine lines forming. With it and good skincare is a must, my joints and body feels so much better. Thank you, its been a life saver and I refuse to grow old gracefully. Might be old but definitely don't have to look or feel it !
A+++
This is probably my absolute favorite! The flavor is spot on and it's been a lifesaver for my hair and nails - I've switched from Vital Collagen to this and really like this more so!