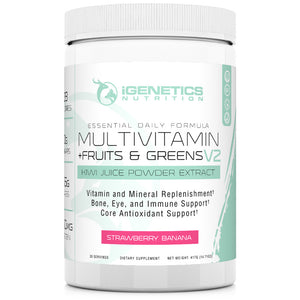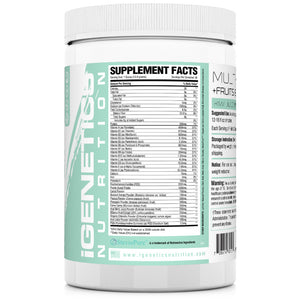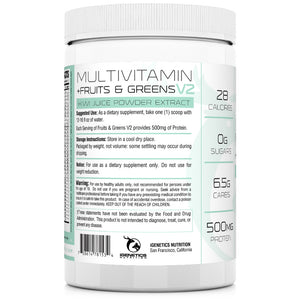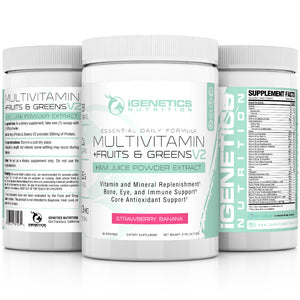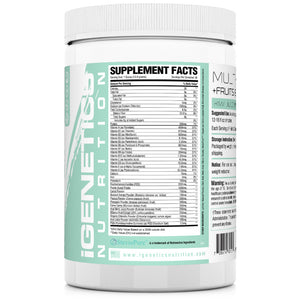 Multivitamin + Fruits & Greens V2
Sugar-free, Gluten-free, Cruelty-free, No additive & Vegan 
Fill up your diet gap and reach your daily necessary vitamins, fruits, and greens with our Essential Daily Formula packed with a whole range of 28 vitamins, nature's most bountiful fruits, and greens including Vitamin A, Vitamin B1, Vitamin B12, Vitamin B5, Vitamin B6, Vitamin B7, Vitamin B9, Vitamin B12, Vitamin C, Vitamin D3, Vitamin E, Vitamin K1, Mulberry Fruit, Purple Sweet Potato, Carrot, Broccoli Extract, Papaya, Pineapple, Camu Camu, Acai, Bilberry, Chlorella, Monk Fruit, Papain, Bromelain and Kiwi extract. 
Fruit and vegetables are a good source of vitamins and minerals full of anti-oxidants and anti-aging properties. They are an excellent source of dietary fiber which can help to maintain a healthy gut and prevent constipation and other digestion problems.
It also supports your immune system and increases energy.
More about the star ingredient Kiwifruit Extract:
Kiwifruit Extract is an elixir of nutrients that helps nourish, support, and regenerate, revealing vibrant, refreshed skin.
When kiwifruit Extract's antioxidants go to work, existing collagen and elastin cells are supported, and new cells – which tend to slow in production with age - are encouraged, so as the surface cells are eradicated, more beautiful, healthier skin is revealed.
Kiwifruit is also rich in vitamin E, another powerhouse antioxidant that fights aging by supporting collagen and elastin proteins from free radical damage.
How to use: Add 1 scoop to 8-12oz of water or simply mix it with your favorite beverage or smoothie and drink it daily to see the magic happen.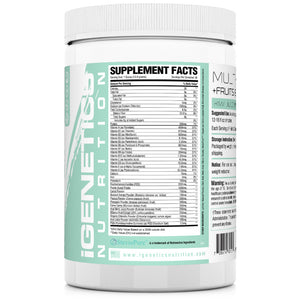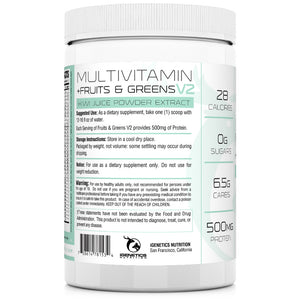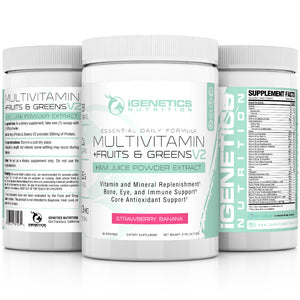 Great product
I really like this fruits and greens, it mixes well and doesn't have a sugary taste. I've been using it for a few weeks now. I've noticed sustained energy throughout the day and I've even skipped my morning coffee a few days. It feels like a natural energy boost, not a caffeinated one that leaves you with a hard crash a few hours after. I didn't buy this to replace coffee and I just wanted to increase my micronutrient intake. I like that the product is sugar-free, vegan, and non-gmo. Will continue to keep using it.
Natural energy and tastes good
I purchased this item in hopes of more energy that would last throughout my busy day. I recently stopped drinking caffeine and needed something natural to help pick me up. I've been mixing a scoop of fruits and greens into my morning smoothies for a week now and I can already see changes in my energy levels. I am able to make it through my day without yawning or feeling tired at all.
Changed my life
I am in my 70s and for the last few months, I have been feeling so tired each day that all I would do was move from my bed to my computer and the couch. I was beginning to believe that I needed to see my doctor for a check-up. My last check-up was last year and everything was fine. I mentioned my problem to my daughter and she suggested I add more vegetables and fruit to my diet. Since using this fruits and greens would be easier for me than buying the vegetables and blending them up myself and I really did not have the energy to do that. The first week of taking the greens drink I felt the same and was so discouraged. But by day 8, I noticed that I had done my laundry, worked in my garden, and stayed out of my bed the whole day. I had a good night's sleep and was at it the next day and every day since. I feel so much more alive and I have gotten my energy back. I take a green drink twice a day, morning and afternoon and I will continue from now on. Thank you.
No sugar and easy to digest
I mix mine up in my smoothie/protein shake each morning or with just real almond milk. I have a very sensitive digestive system & this is the only product I have found that doesn't upset my stomach. I highly recommend these greens & will continue to order more in the future.
More energy through out the day
The product was highly recommended to boost my nutrition by my Chiropracter.
This Greens has helped me go forward in keeping up at the gym and in other activities of life.