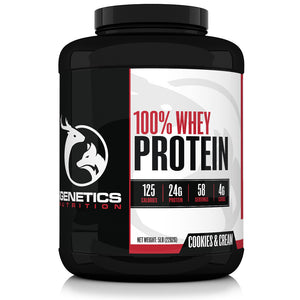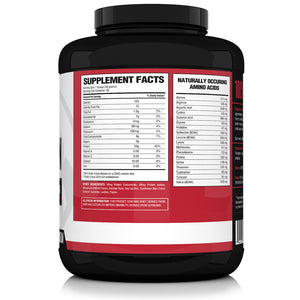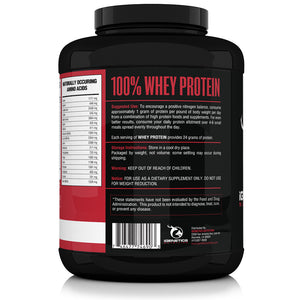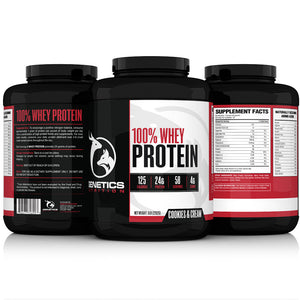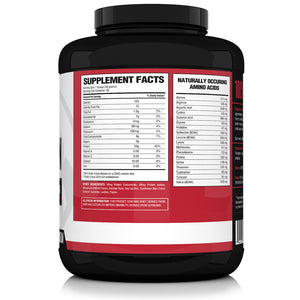 Got a date with the weight? Our 100% Whey Protein is just what you need with 24g protein per serving.
Loaded with whey obtained from green pasture-fed local cows and cold-pressed for faster absorption. Whey is rapidly absorbed into your bloodstream and from there on to your muscle for promoting the growth of lean muscles. Whether you're killin' it in the gym, doing some intense cardio, or testing your body's limits in your favorite sport, incorporating whey protein into your diet is only going to help take your fitness level to the next level.

Remember: Whey protein isn't just for bodybuilders and notable benefits are:
- Achieve a balanced diet
- Prevents muscle loss as you get older
- Maintain healthy bones & joints
- Weight management & fat loss
- Recovery and fuel after any type of exercise
What is a Whey protein?
Milk is made of two proteins, casein, and whey. Whey protein can be separated from the casein in milk or formed as a by-product of cheese making. Whey protein is considered a complete protein as it contains all 9 essential amino acids. It is low in lactose content. Once consumed whey is rapidly digested and absorbed by your digestive system so it gets into your bloodstream and then your muscles very quickly, which is beneficial after training when you need to initiate the recovery process. Whey comes in four forms, all of which are abundant in BCAAs, the crucial elements in rebuilding and repairing the muscular damage caused by working out.
What are the benefits of whey protein?
Whey protein supplementation along with resistance exercise can help improve muscle protein synthesis and promote the growth of lean tissue mass.
 Why do I use whey protein?
If you go to the gym to lift weights, do cardio or both, or you regularly pound or pedal the pavement for your fitness fix, eating lots of protein will help rebuild and repair the damage done to your muscles for a stronger, leaner body. A quick and easy way to increase your intake is a protein shake made with whey powder. So if you want to build a bigger, stronger, and leaner physique, consider investing in a tub of high-quality whey protein powder
 When do I use whey protein?
After a workout is the most obvious time to consume whey protein powder because that's when your muscles need it most. Drinking a shake of whey mixed with cold water or milk within 30 minutes of finishing your training session will initiate the recovery process by flooding your bloodstream with amino acids, which are quickly shuttled into your muscle cells where they can be laid down as new muscle tissue.
You can also take whey protein at other times: blend a scoop of your favorite flavor with an egg and a banana for some high protein breakfast or dessert pancakes, for example. It's especially useful to have to hand to mix with water when you're out and about and don't have time to eat a proper protein-rich meal.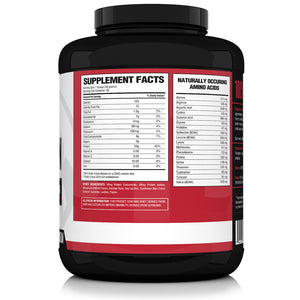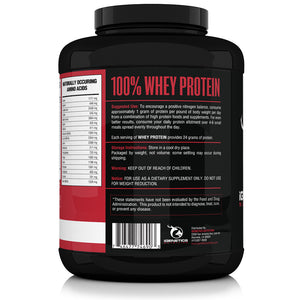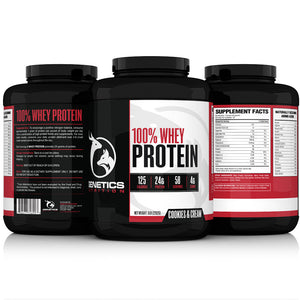 Quality whey
Have been using this product for 8 months and it's been good to me.
Look no further!
I am obsessed with trying different types of protein to compare flavors since I like to use them as a meal replacement and keep a healthy weight. This my holy grail and tastes more like a treat or a dessert than a food or diet! I'm done with the protein search for now. This is that good! I mix mine with almond milk and it mixes so I smooth.
Great taste
I'm not a body builder, but I work out few times a week and I use the protein powder for a post work out shake or for a quick meal replacement when I am on the go. The protein powder as a shake is pretty delicious. No weird aftertaste like many other powders, and it's really filling. It is a great way to fill the protein amount you should be consuming daily to stay healthy and alive.
Good price and great taste
Great taste and nutritional value of this supplement stacks up very well per pound against competitors. Price point is very good compared to competition.